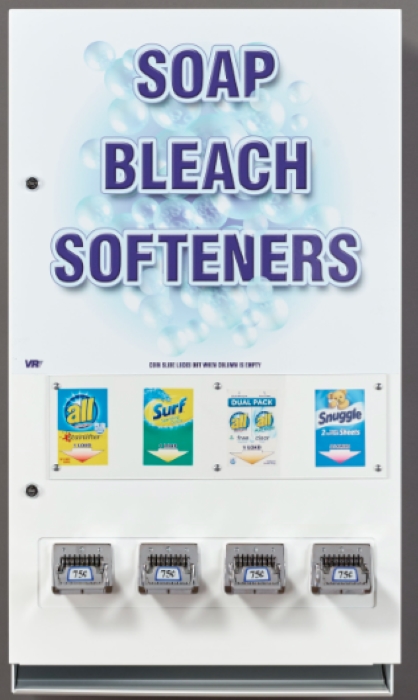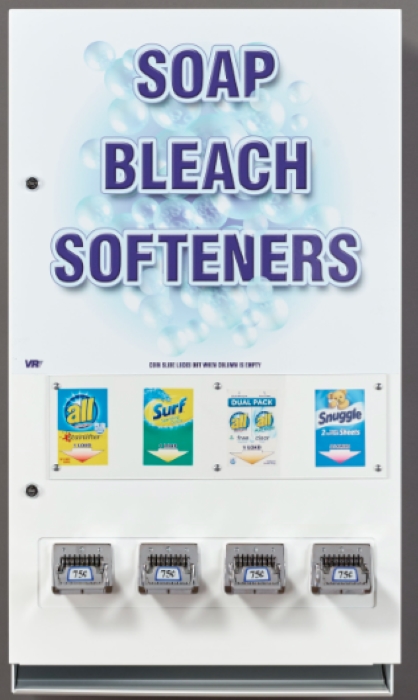 VENDMASTER 494 – 4 COLUMN SOAP VENDER
$987.00
Description
Size Guide
Reviews (0)
Description
VENDMASTER 494 – 4 COLUMN SOAP VENDER
The 494 is a four‐column coin‐slide‐operated vending machine that is perfect for larger hotel/motel or campground laundry rooms and smaller coin laundry stores with a capacity of 92 vends.
This vender features ESD or Greenwald V8 coin slides which makes multi‐pricing possible. Any column, any price from $0.25–2.00; Please specify vend amount and coin slide preference when ordering.
The cabinet offers a hinged guard style door with high security locks, a large plexiglass product display area, and a locked cash box. The package weights lock out the vend cycle when the column is empty to cut down on user abuse. The vender comes with a hanger bracket to make installation easy and secure.
Additional information
Weight: 98 lbs
Dimensions: 21.25 × 37.75 × 9.5 in
Capacity: 92 boxes
Color: White with blue graphics
Call 1-800-640-7772 or Email sudsylaundry@gmail.com for a Shipping Quote. Please specify vend amount and coin slide preference when ordering
PLEASE NOTE: THAT INCOMING FREIGHT WILL BE ADDED TO THE TOTAL OF THE ORDER ALONG WITH ANY DROP SHIPMENT OR DELIVERY FEES
**ALL PRICES ARE SUBJECT TO CHANGE WITHOUT PRIOR NOTICE. IN THE CASE OF HUMAN OR COMPUTER ERROR SUDSY RESERVES THE RIGHT TO RE-INVOICE FOR THE CORRECT PRICE.**