Sudsy serving the Laundromat Industry for OVER
6 Decades

!
Since our humble beginnings in a 2 car garage in 1959, Sudsy has been dedicated to supplying our customers everything to help their business run smoothly – From the wax on the floor to the bulbs in your ceiling! Our courteous & knowledgeable staff are always available to answer any questions- our trucks are ready to deliver when you want it and now with our website SudsyOnLine.com we are open for orders 24/7!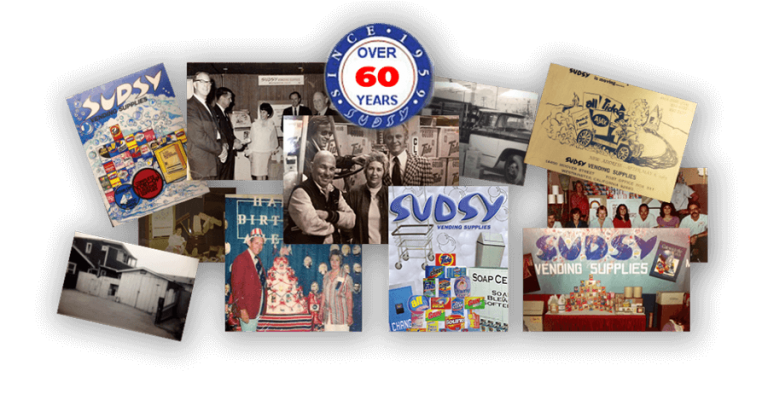 Sudsy Vending Supplies has been doing business the Southern California Marketplace and laundromats throughout the United States continuously since 1950's. It is our sincere hope to not only serve you as a laundry supplier, but also as a friend. From our knowledgeable and courteous staff to our delivery service where our trucks are ready to deliver when you are- we have you covered. We now compile pallet loads, Next Day and 2nd Day Air and find the right delivery method for you.
Unlike others, we try to stock the items we sell- so they are ready for fast delivery, wherever you may be. You'll find we are a full-line distributor for Standard & Rowe Change Machines, RB Carts, Vend-Rite Venders and many more laundry products.
Please call and give us the chance to earn your business, we are sure that you will not only find an excellent laundry supplier but a friendship for years to come.
Thank You for the chance to serve you!
In 2014, SUDSY's founder Mary Peet passed away due to heart complications & we wish to keep her memory alive while helping a worthy cause- Please continue to assist The American Heart Association: https://www.heart.org/