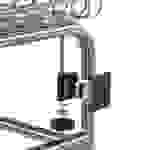 CART COP / 4-PACK-NOW IN STOCK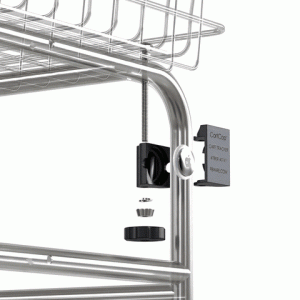 Cart Cop/4-Pack
Description
Size Guide
Additional information
Reviews (0)
Description
CartCop™ is designed to help reduce laundromat expenses related to laundry cart theft. Able to be tracked with any Apple device via Apple AirTag™, this anti-theft solution mounts securely to any 100, 200 or 201 series R&B Wire laundry cart. CartCop™ features an anti-tamper design, with tamper-resistant hardware, to keep you in control of who can remove it. CartCop™ is perfect for unattended laundromats, or laundromats that have an attendant, but still let customers take carts out to their cars.
INCREASE BOTTOM LINE PROFITS
R&B Wire,  knows the importance of running a profitable laundromat that gives you the power to scale as you see fit. To attain a consistent monthly ROI, it's important to reduce as many unnecessary laundromat expenses as possible. With CartCop™, not only will you be able to monitor where your carts are at all times, you'll save your employees time spent outside searching for company equipment. Another benefit you should not overlook is the increase in customer satisfaction. Customers are far less likely to return to a laundromat where they have to wait around for equipment. Position yours as the best in the area by ensuring carts are readily available for any new or returning customers.
PROTECT YOUR INVESTMENTS WITH R&B WIRE TODAY
CartCop™ is the perfect solution for laundromat owners looking to prevent laundry cart loss, reduce their laundromat expenses and keep customers satisfied. 
Apple and AirTag are registered trademarks of Apple, Inc.
 **All prices are subject to change without prior notice. In the case of human or computer error Sudsy reserves the right to re-invoice for the correct price.**
Additional information
| | |
| --- | --- |
| Weight | 2 lbs |
| Dimensions | 7 × 5 × 8 in |