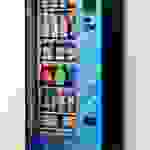 VISION SOAP VENDER WITHOUT COMPRESSOR
$7,925.00
Product Name: Vision Soap Vender without Compressor
Model Number: 1200-VCNC-CS
Order Code: 1200-VCNC-CS
Description: Customizable, glass front vender without compressor for laundry product sales.
Description
Size Guide
Additional information
Reviews (1)
Description
***** Please note: Item is a custom order. Lead time is anywhere between six to eight weeks and will be drop shipped directly from the manufacturer unless you are in our local delivery area. Price listed does not include tax, freight or delivery cost. There is a process in ordering this item, these vending machines are configured and customized according to the products you choose to vend. You will need to let us know what items you want to vend and where you would like them positioned in the vender. We do have sample configurations available upon request.  You will be emailed the freight cost for your approval once the information is received from the manufacturer. Any questions, email: sudsylaundry@gmail.com ***** 
Glass front allows convenient viewing of available products.
EasyFlex conveyor delivery eliminates spirals providing universal trays for easy product mix. Conveyor's adjustable motor speed & torque vends containers from 1.4 oz to 30oz. 
Adjustable pull-out trays for easy loading with built in step stool to facilitate loading of upper trays to eliminate tilt-down trays.
SmartVend elevator delivery system guarantees a product vend and eliminates drop damage with a waist height delivery point.
Compatible with multiple payment systems: coin, bill or debit (MDB or Executive Protocol.)
Technical features include: 
Programmable front panel lighting with energy saving feature which turns off display lights during non-operational periods.
Continuous self testing & diagnosis as well as a failure incident report.
Useful accountability & sales data storage.
LCD display of programming messages, product price and machine status.
Large capacity locked cash box.
Cabinet is made of 1.5mm steel with an anticorrosion treatment.
Product dimensions:31.5″ W x 72″ H x 37″ D
Capacity:12-20 different products depending on configuration
Weight:705 lbs. empty
Color:Blue & white soap bubble graphic on front panel. Optional matching side panel graphics are available.
Special instructions:FOB Chicago, shipped LTL
&return&&newline&
**All prices are subject to change without prior notice. In the case of human or computer error Sudsy reserves the right to re-invoice for the correct price.**