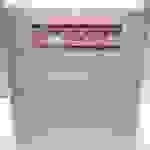 HEAVY DUTY SOIL REMOVER 40 lbs
$57.20
HEAVY DUTY SOIL REMOVER 40 lbs
Description
Size Guide
Reviews (0)
Description
SUDSY BRAND HEAVY DUTY SOIL REMOVER IS A POWERFUL EXTRA STRENGTH AND UNIVERSAL FORMULA SPECIFICALLY DESIGNED TO USE IN INSTITUTIONAL AND COMMERCIAL LAUNDRIES. A POWERFULLY BUILT DETERGENT COMBINING POTENT ALKALIES, SURFACTANTS AND EMULSIFIERS. FORTIFIED TO PROVIDE DEEP CLEANING ON A DIVERSE RANGE OF HEAVY SOIL AND GRIME ASSOCIATED WITH INSTITUTIONAL AND COMMERCIAL LAUNDERING. CONTROLLED SUDS TO HELP ACHIEVE MAXIMUM MECHANICAL ACTION. BUILT-IN BUFFERING AGENTS TO HELP PROLONG COTTON LIFE.
USE RATE: USE 1/2 – 1 CUP PER 50 LBS. LOAD AND ADJUST TO SOIL CONDITIONS.
OVERLOADING: INCREASE USAGE RATE AND WASH TIME ACCORDINGLY. EXTRA RINSE TIME MAY BE REQUIRED.
SPOTS & STAINS: TREAT AREA WITH THICK PASTES OF DETERGENT AND WATER. AGITATE ONTO STAIN, THEN WASH AS USUAL.
5 CASE MINIMUM FOR LOCAL DELIVERY (MIXED ITEMS) / FLAT RATE FEE OF $9.25 FOR LOCAL DELIVERY
**ALL PRICES ARE SUBJECT TO CHANGE WITHOUT PRIOR NOTICE. IN THE CASE OF HUMAN OR COMPUTER ERROR SUDSY RESERVES THE RIGHT TO RE-INVOICE FOR THE CORRECT PRICE.**